fine jewellery collection by Tatiana Van Lancker
VAN creates timeless fine jewellery pieces that transcend time and place. Handcrafted in Italy by local artisans, the articulated pieces are playful and tactile, standing out and creating intrigue due to their originality, unique movement, quality and style.

The launch collection consisted of four VAN ROBOTS: Pinky, Smeraldo, Roma and Amore, each jewellery robot pendant is a unique modern treasure handcrafted in Italy, from 18kt gold and precious stones.


"I have always loved robots since in a playful way they represent the past and the future. I created VAN ROBOTS in an unexpected, charming reincarnation of Art Deco meets sci-fi through exquisite hand craftsmanship: playful, fine jewellery bijoux-bots. Who doesn't love a joyful robot!"
VAN ROBOT EARRINGS - Diamond, Aquamarine
Tatiana Van Lancker, the creator and founder of VAN, also offers to design bespoke VAN ROBOTS for clients, customizing each element, from the head to the feet with different coloured stones to create a truly unique and personalized jewellery piece.

"Central to my inspiration for VAN was my desire to design heritage pieces that transcend time and place. I am passionate about Art Deco jewellery but always had an eye on contemporary design and I wanted to fuse the two into jewellery that feels relevant today. I love jewellery that starts a conversation and also wanted to bring an element of magic and surprise into the designs".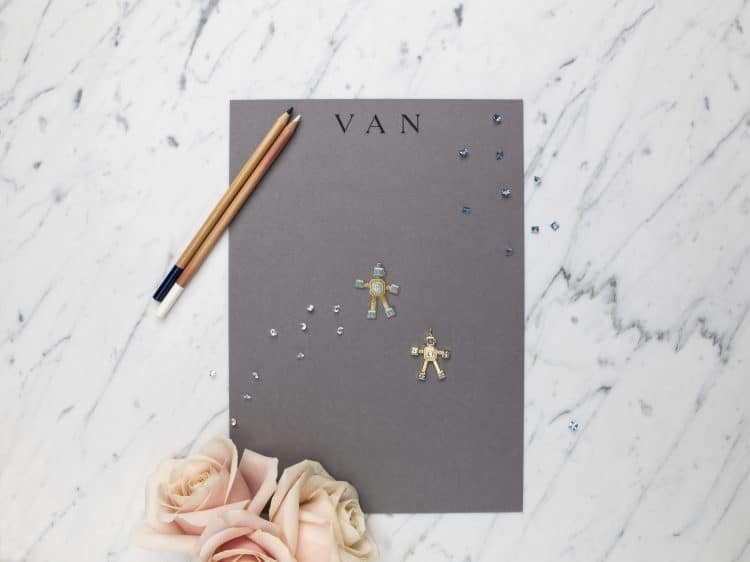 VAN ROBOT LUNA PICCOLO - Diamond, Aquamarine
VAN expanded the offering to include articulated VAN ROBOT EARRINGS and VAN ROBOT LUNA PICCOLO pendant both Diamond and Aquamarine. Work is underway on a NEON collection, to bring joy through iridescent, vibrant VAN ROBOTS and exquisite INCA signet rings.

The Robots at first seem quite futuristic but the design was created using a mix of Art Deco influences and Incan motifs. Future scenes from the Past.
VAN ROBOT STELLA PICCOLO - Amethyst, Rhodolite, Blue Topaz, Citrine
All pieces are handcrafted by local artisans in Tuscany where the Van Lancker family have a home. The small bespoke atelier in Arezzo, Tuscany, one of the world's gold capitals, has been run by the same family for many generations and they pride themselves on their exceptional attention to detail and meticulous craftsmanship. This focus on family is key to VAN, a brand that values legacy and a desire to create beautiful heirlooms which can be worn everyday and be loved by future generations.
VAN INCA COLLAR
VAN INCA SIGNET RING
"During these challenging times I have been delighted that my playful VAN ROBOTS have brought happiness to my clients. VAN ROBOTS are a joyful dichotomy between futurism and classicism. As articulated pieces they are tactile and weighty, creating a real sense of presence. I love that my clients always talk to me about their VAN ROBOT'S personality, and how much "they love their little friend"
Handmade in Italy